Discover more from PLURIBUS
Providing original commentary and aggregating the best work on the illiberal impulses that threaten freedom and social cohesion.
Over 1,000 subscribers
E-Pluribus | August 4, 2022
Discrimination by any other name, an evaluation of depolarization strategies, and one redeeming quality of pop culture.
A round-up of the latest and best writing and musings on the rise of illiberalism in the public discourse:
Wenyuan Wu: Pride and Prejudice: Don't You Dare Upend the "Race-Conscious" Status Quo
This week, Around Twitter has noted the ACLU's support of race-based admissions in a case before the Supreme Court. At Minding the Campus, Wenyuan Wu explains the word games defenders of the current standards play in an attempt to avoid the blindingly obvious conclusion that some students are suffering explicit discrimination based on race when attempting to get into college.
Last week, both Harvard and the University of North Carolina (UNC) filed their response briefs with the United States Supreme Court (SCOTUS), which is now considering two lawsuits against the institutions' admissions processes by Students for Fair Admissions (SFFA). In the responses, the defendants categorically deny claims of racial discrimination in undergraduate admissions, pledge their unrelenting allegiance to "student-body diversity," and challenge SFFA's legal standing as the plaintiff.

[ . . . ]

In other words, diversity, long interpreted as racial diversity and representation, is to be accepted beyond doubt as a critical goal for both higher education and our society as a whole. Legal precedents, which by no means gave anybody a license to discriminate, are not to be revisited so that universities and colleges can be saved from future litigation. So, move along, nothing to see here—if only they were right. Both schools have committed substantive errors through their dogmatic pride in existing practices and prejudice against their challengers.

[ . . . ]

For Harvard, UNC, and other leading universities that have used race in admissions to balance their incoming classes, "strict scrutiny" is a golden shield. All schools provide a laundry list of how they have exhausted race-neutral alternatives, such as need-based student recruitment, targeted outreach to underrepresented students, and a pipeline for high-achieving community college students. They all swear that their efforts are conducted in good faith and are narrowly tailored, but that they couldn't yield "exceptional student-body diversity" without race-based measures.

The irony here is rich: if these schools truly believe that diversity is a broad concept meaning "no person is one-dimensional and no two people are the same," how would they be able to quantify a desirable level of diversity without using race as a proxy?
Read the whole thing.
---
Francis Fukuyama: Paths to Depolarization
Everyone talks about polarization, but is anyone doing anything about it? At Persuasion, Francis Fukuyama examines some of the proposed remedies to put the country back on the path to the e pluribus unum ideal, which seems vital for America to survive and prosper.
Many people have recognized the centrality of polarization and offered solutions for how to get out of it. Among these are: institutional changes, especially to our electoral laws, that would restructure the incentives under which politicians operate; the growth of a third, centrist party that grabs the middle ground from the extreme wings of the existing two; and grassroots movements to build moderation and understanding from the bottom up. All of these will be important components of depolarization, but none of them will be sufficient by themselves or take place soon enough to solve the problem. 

The path out of polarization needs to be a political one, given the nature of our democratic system: that is, a realigning election in which one party decisively wins control of both houses of Congress and the presidency and holds on to power through two or three electoral cycles. These realignments are rare, but in conjunction with the other pathways suggested may be in reach in the coming years if one of the two parties plays its cards right.

[ . . . ]

These approaches—changes in institutional rules, third parties, and grassroots organization—are all important components that could contribute to depolarization. Many political reform proposals face a chicken-and-egg problem, however: you can't enact legislation to reduce polarization until you've reduced the level of polarization. The path to a long-term solution is blocked in the short run. The only way to resolve this conundrum is through the democratic process itself: that is, through a decisive electoral victory by one party that seeks to promote serious change, and is able to enact it.
Read it all.
---
Thanks for reading PLURIBUS! Subscribe for free to receive the latest posts!
---
James Broughel: Ayn Rand and the Persuasive Power of Popular Culture
Speaking of polarization, Ayn Rand provokes wildly different reactions among those who read her work. At Discourse Magazine, James Broughel urges a second look at Rand's work in the context of pop culture and how Rand managed to effectively convey her ideas despite her lack of "expertise" as it is often defined.
While many on the right recognize Rand's significant literary achievements, including her authorship of the epic novel "Atlas Shrugged" and its predecessor "The Fountainhead," she is viewed as a crank among academics and philosophers. So, if one doesn't want to end up alienated from certain high-status social circles, distancing one's self from Rand is a prerequisite.

However, it may be time to start rethinking Ayn Rand. Not her philosophy necessarily, but the idea that she is somehow little more than a guilty pleasure. I personally hold no strong views about objectivism, Rand's personal philosophy, which glamorized self-interest as a heroic ideal and rejected virtually all forms of altruism. Many aspects of that philosophy seem basically right to me: our culture should stop making heroes out of airhead Hollywood celebrities and instead elevate the titans of industry.

Moreover, as an economist, I find it plausible that if people were more rationally self-interested, the world would be a more productive and enlightened place. Being a realist, however, I also recognize that people are emotional, self-deceptive and needy creatures, most of whom could never come close to resembling the heroes in Rand's novels. Many people, especially those suffering through no fault of their own, deserve our compassion, and, yes, our altruism.

[ . . . ]

[A]yn Rand deserves a second look. Rand wasn't an economist. She didn't have a Ph.D. in economics from a fancy institution. She wasn't a statistician. She was a novelist, an author of fiction, as well as a philosopher. More importantly, she was a communicator of ideas—particularly economic ideas, perhaps the only one in the last century who rivals Milton Friedman in her abilities.

Most impressive about Rand's work was her ability to convey economic messages via pop culture. "Atlas Shrugged" is repeatedly listed as one of the most influential books of all time, often ranking near the Bible on such lists. "The Fountainhead," which is the story of a go-it-alone architect fiercely unwilling to compromise his talents and vision just to get ahead, was turned into a hit movie in the 1940s, a movie that still stands up today. No other libertarian movies or books that I can think of have had such success catering to a popular audience.
Read it all here.
---
Around Twitter
Wesley Yang with some thoughts on a surreal New York Times story regarding gender identity and murder: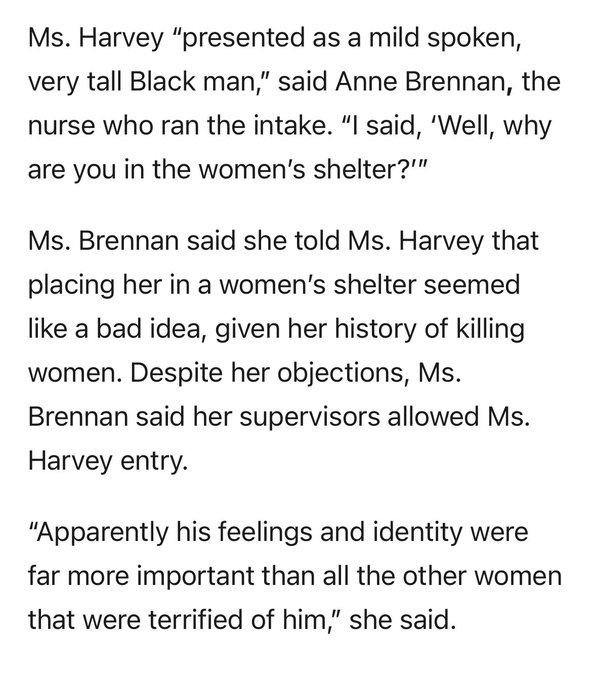 "A homeless shelter worker and people close to Ms. Leyden questioned whether, despite her gender identity, Ms. Harvey should have been placed in a homeless shelter for women, given her history of attacking and murdering them." https://t.co/Mkppq6v0XU
Some excerpts from a Jesse Singal thread on the nonsense that is permitted in "science" journals:
Finally, more evidence that truth is stranger than fiction: