Discover more from PLURIBUS
Providing original commentary and aggregating the best work on the illiberal impulses that threaten freedom and social cohesion.
Over 1,000 subscribers
E-Pluribus | June 6, 2022
The government should stay out of the anti-disinformation business, Goodreads cancels a writer, and free speech is more than just an amendment.
A round-up of the latest and best writing and musings on the rise of illiberalism in the public discourse:
Katherine Mangu-Ward: You're Wrong About Disinformation
"I'm from the government and I'm here to help" are the nine words in the English language Ronald Reagan famously declared Most Terrifying. Reason's editor in chief Katherine Mangu-Ward says this is particularly true when it comes to tackling mis- and disinformation, a responsibility American have been and should be skeptical of delegating to politicians.
All of this makes the very concept of misinformation—and its more sinister cousin, disinformation—slippery at best. Spend 10 minutes listening to any think tank panel or cable news segment about the scourge, and it will quickly become clear that many people simply use the terms to mean "information, whether true or false, that I would rather people not possess or share." This is not a good working definition, and certainly not one on which any kind of state action should be based.

People believe and say things that aren't true all of the time, of course. When false beliefs influence the outcomes of major elections or, say, decision making during a pandemic, it's reasonable to consider ways to minimize the ill effects those false beliefs can create. But efforts by public officials to combat them—and tremendous confusion over how to identify them—may well make things worse, not better.

[ . . . ]

There are many, many ways to be wrong. In the United States, nearly all of them are protected by the First Amendment. So far, most efforts by the politically powerful to combat misinformation have approached free speech concerns with some degree of circumspection.

[ . . . ]

But there's a reason the announcement of the Disinformation Governance Board was greeted with such a clamor: The public is increasingly skeptical that officials will honor the limits of constitutional protections for speech, and increasingly aware that the status quo has moved toward censorship by proxy.
Read the whole thing.
Dave Seminara: Mad Traducers - A writer's run-in with Goodreads
The insidious influence of relatively small online mobs over large organizations is one of the more curious aspects of cancel culture. Writing about his experience with Goodreads, author Dave Seminara says those lacking large platforms to fight back are especially susceptible to these bad faith whisper campaigns with potentially devastating consequences.
After that incident, the publisher of Post Hill Press, which published my book, called me. He said that Courtney had contacted Goodreads via Twitter and had sent messages to executives at Post Hill and at Simon & Schuster, the book's distributor, claiming that I was harassing her and threatening her with lawsuits. My publisher said that all of my books—all about travel, none political—risked being pulled from the Amazon platform. And so, a corporation that sells about 70 percent of my books, according to my publisher, wasn't just providing a platform for "reviewers" to defame me but also had the power to effectively kill my sales, too.

[ . . . ]

Again, critical reviews, spiteful comments, and literary enemies are the price of a career in writing. But this had the distinct whiff of a coordinated campaign—and one that had nothing to do with my books. One reviewer, with no prior reviews, wrote that I "clearly hated all women." Another claimed that I "appeared to be harassing those who draft unflattering reviews by sending them repeated emails and threatening to sue." Another titled her review with the bold type warning, "Reviewers beware" and claimed that I "relentlessly harassed" and "bullied" Courtney. "She felt so hounded that she deleted her Goodreads account," she wrote in bold type. The writer admitted she hadn't read my book but said that my "actions today were to hunt down a person I didn't know . . . and insult, berate and threaten them into keeping their mouth shut."

I flagged the reviews, along with one on Amazon that stated my book was "ripe with misogyny," and contacted Goodreads about the campaign. Amazon is stricter in policing reviews, which is probably why the crowd only got one negative review on me to pass their system. But on Goodreads, most of the flagged reviews and ratings remain there.

Since I wasn't allowed to respond to the malicious reviews and it was clear Goodreads wasn't going to delete them, I left my own book a review stating that all of the attacks on my character were false. I asked Baekeland to refrain from contacting Courtney. He told me that he wrote a five-star review of my book along with a separate response to the smears, indicating that it was he who had threatened Courtney with the lawsuit, not me. Perhaps an hour or two after I saw his review and comment, they were gone—and so were both of us, from Goodreads. Around the same time, we both got emails from Goodreads saying our accounts were deleted for violating their terms of service.
Read it all here.
Luke Hallam: Beyond the First Amendment
While Americans are fortunate to have the protections offered by the First Amendment, Luke Hallam writes at Persuasion that 1A is only the beginning. Individual citizens must be committed to an open exchange of ideas and resist illiberal impulses if we are to truly enjoy all the benefits of free speech.
In these polarized times, many of us dream of a society in which there are no undue burdens on expressing your opinion; one in which you will not face pressure to conform in your daily life, and which allows people to access the broadest possible range of ideas and opinions. The First Amendment is vital to the functioning of American democracy—but it can only go so far toward building such a society.

None of this is the fault of the First Amendment. It's there to protect citizens against the government, and any constitutional amendment that went further—that tried to regulate what private citizens can and can't say to each other—would be dangerously vague and arbitrary. But censoriousness is still a problem. What, then, is the answer?

Some people advocate for more censorship. They point to social media companies (after all, most pile-ons and radicalization is mediated via the internet), who have wide discretion to moderate content as they see fit. But aside from the obvious danger of creating even more mistrust, censorship of this sort is always arbitrary. Social media companies can only hire so many moderators to trawl through the avalanche of garbage: some individuals will be targeted while others get away scot-free. And while cleaning up online discourse could help mitigate some of the dynamics of censoriousness (such as pile-ons and threats), it will hardly prevent activist groups from getting together to demand that a state passes an anti-CRT law, or that a university censures a particular professor.

A better solution is to recognize that building a culture free from censoriousness is a bottom-up endeavor. That could mean participating in nonprofits which aim to reduce polarization and facilitate dialogue between cultural tribes. It could also mean pressuring social media companies to alter their algorithms so that they don't favor the most inflammatory content (a very different solution to top-down content moderation).
Read it all.
Around Twitter
School's out for the summer and "Education" is out at FIRE… but only in the name. The Foundation for Individual Rights in Education has rebranded as the Foundation for Individual Rights and Expression, an indication of its broad mission to promote free speech everywhere and perhaps more directly challenge the ACLU's position as the leader in the field: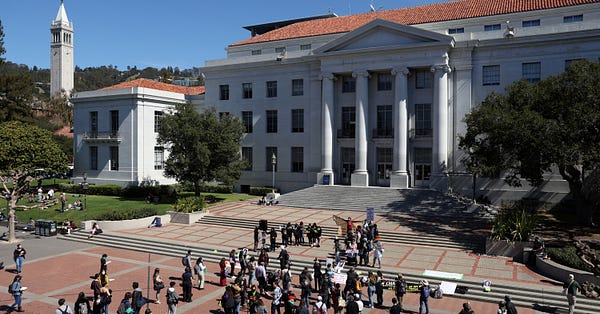 politi.co
Free-speech group will spend millions to promote First Amendment cases
Some backers see FIRE moving to take on fights ceded by ACLU.
Via Heterodox Academy, Michael Roth at Inside Higher Education makes the case for "culture peace":
And finally, Ilya Shapiro's "victory" at Georgetown Law turns out to have been a victory in name only. Shapiro says the end result of the 4 month investigation left him no choice but to resign: